"Lord, save us! We're going to drown!"
February 29, 2016
No Comments
Over the past few weeks, we've been having high winds periodically in our city.  As I've reflected upon these winds, I've also been struck by the comfort and sense of safety I've been experiencing as I stand at the window from inside my condo looking out.  On and off, this has caused me to reflect upon the storms of life and how on the inside we often wrestle to find peace within.
This past weekend, I had the opportunity to step outside the comfort of my condo and experience firsthand the raging winds.  As I walked, I began to focus on the story of Jesus and His disciples in the boat during the storm.  For your recollection, here is the story from Matthew 8:23-27.
Jesus Calms the Storm
23 Then he got into the boat and his disciples followed him. 24 Suddenly a furious storm came up on the lake, so that the waves swept over the boat. But Jesus was sleeping. 25 The disciples went and woke him, saying, "Lord, save us! We're going to drown!"
26 He replied, "You of little faith, why are you so afraid?" Then he got up and rebuked the winds and the waves, and it was completely calm.
27 The men were amazed and asked, "What kind of man is this? Even the winds and the waves obey him!"
In this story, I'm often struck at how the disciples walked with Jesus, saw firsthand many of His miracles; yet, still seemed to lack faith during "the storm".   Another thing that always stands out is that the disciples felt the need to go and "wake up" Jesus.  And, what if they hadn't woken him up?  What would have happen then?
How many times in our lives to we feel like the storm is raging, Jesus is asleep, and we're crying out for Him to "wake up"!   Oh, we'd never admit we're saying to Jesus "wake up"; however, deep down, isn't that really what we're wrestling with on the inside.  We're not sure Jesus is attuned to our specific storm and lack faith that he's leading us through it.  We feel as though we have to get His attention to insure our safety and security.
A great friend of mine authored a book called, Calming The Storm Within.  In it Jim Lange shares of his own personal struggles with finding peace in the storms.  I offer the following from Jim's website: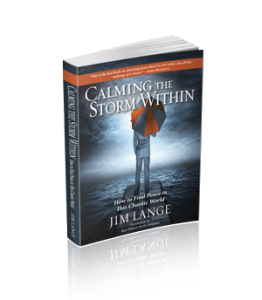 ABOUT THE BOOK
Are you experiencing a lack of inner peace in your life? Do you find yourself worrying more and enjoying life less? Welcome to the club. Jim Lange has struggled with these same issues for much of his life. Through his candid story of failures and successes, discover how he has begun the process to overcome these struggles. Through his personal story, Jim engages you and reveals God's truth: that God is a God of peace. In fact, He is referred that way more than any other in the Bible. He obviously wants us to experience true and lasting peace in our lives. Even if things are chaotic around us!
In the pages of this book, personal stories and fresh Biblical insight are shared which can unlock the secret to discovering your own peace in the midst of the storm. A peace that you never thought possible. Lasting peace. True peace. Refreshing peace. The peace which transcends all understanding.
Peace is possible. Really, it is. Join Jim on his journey and discover how peace can be your companion throughout the rest of your days.
As I know Jim personally, what I find interesting about his life is that the storms haven't stopped.  In fact, some of the storms have intensified since his writing this book.  Sharing in the journey together, we've both experienced many of the insights offered as to how to find that deep peace within.  A peace "which transcends all understanding" and will weather the storms of life!
This being said, I would also confess many days where the storms challenge my own personal faith.  In these times, God has placed people in my life who continue to encourage me.  People like Jim Lange remind me that we're following a Lord that "even the winds and the waves obey".  One which also has encouraged us to lock arms and take on the storms of life together.  Are you needing someone to lock arms?  If so, reach out and let me see how I can assist you.