Happy Mother's Day Moms!
May 11, 2014
No Comments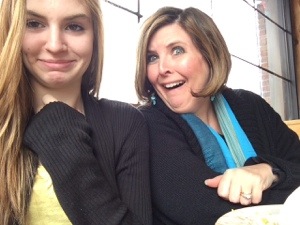 Today is the day we celebrate the gift mothers are around the world. In particular, I am thankful for my mother. She's a loving woman who taught us the importance of a great work ethic and character. Ongoing weekly for nearly 25 years, I still enjoy our Sunday evening phone calls sharing life together. Additionally, she raised my two older sisters to be tremendous mothers of their families. My sisters have raised five young men who will be great fathers in the years to come.
I'm also thankful for my mother-in-law. She s a compassionate women who is always putting others first. She's raise two beautiful women and a son who have great families of their own. The best part about her is that she raised a wonderful women who's now my wife, Lisa.
Yes, finally we have "Mama Lisa", the mother of our family and may others who choose to call her "mama". Taking after her mother, she's a compassionate women who is always putting others first. She is the mother of two wonderful teens in Chris Jr. and Kylie who are proving to be kids of great character. Additionally, she's the mother of our adopting child (not officially), Perc, from Nigeria, as well as, many other teens involved with our student ministry and friends of our kids. The house is regularly filled with teenagers which we enjoy greatly and I attribute to this wonderful women.
I also want to share the importance of "Mama Lisa's" commitment to follow Christ. Always being a women of faith, there was a point where she had to resist the temptation to become the spiritual leader of our home. For those who know my story, I was a believer in Christ, however, wasn't the spiritual leader until more recent years. I am absolutely certain that the blessings we've experienced as a family are deeply rooted in the prayers Lisa said many, many years ago and continues to say today. As just an example I offer that while are kids may not be aware of it, Lisa has been praying for their future spouse ever since the kids were conceived. I am quite certain, the angels in heaven know her well and their will be a celebration like no other upon her arrival in heaven. Let's just hope that's a few more years for those who love her and she serves here on earth.
Being one who focused vocation and calling aiding people to see their work as worship, I want to take this time to encourage all mothers. In particular, I want to encourage those who are stay at home mothers. I find many women lack purpose and meaning when looking at their vocation of raising a family. While I have nothing against women in the workplace and my wife holds a teaching job, I would like all mothers today to recognize that God has "called" you to the workplace of your home. There is not greater vocation for a mother than to be a supportive wife and to raise her children well sharing the love of Christ for which I give you "Mama Lisa" as a firsthand example.
So on this day take time to stop and appreciate the wonderful gift you are to your families!
Blessings and Happy Mothers Day!